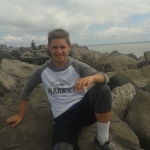 Loturi trimise:
3
Loturi primite:
3
Loturi în progres:
0
Stele primite:
5.00
Ţara:
Statele Unite ale Americii
Limbi:
English
Membru din:
14 August 2019
Ultima activitate:
11 Octombrie 2019
I am 15 years old. I got started collection from my grandfather about 5 years ago. My grandfather is helping me with this site. I hope to grow in knowledge on coins over time. My goal is to visit some of the countries that I collect.
I am interested in coins from 1914 to 1945 in Germany, Belgium, Austria, Poland, Netherlands, France, UK, and India. My main focus is on German and French Notgeld from 1914 to 1923. I am not a silver hound. I am into coins that are in VF or better condition. I am not great at grading coins. Most coin are about VF. I like to get doubles of the same coin to help grade them that way.
I am not interested in fakes. copies, elongated pennies, and trashed coins. I will do a side swap if you are interested. I have over 13,000 coins to swap. They vary in many countries. I am a member on Numista.com All my coins are listed there. Happy Hunting! .